THE PLANOVALGUS FOOT IN CEREBRAL PALSY
DAVID J. ABRAHAM, M.D., Resident, Orthopaedic Surgery
FREEMAN MILLER, M.D. Attending Pediatric Orthopaedic Surgeon
March 26, 1996
CLINICAL CASE PRESENTATION
ORTHOPAEDIC DEPARTMENT
THE ALFRED I. DUPONT INSTITUTE
WILMINGTON, DELAWARE
CASE HISTORY:
A six year-old female followed for spastic quadriplegic cerebral palsy presented with increasing difficulty with ambulation secondary to bilateral hamstring tightness and progressive planovalgus deformity of the feet. The patient was managed conservatively with bilateral MAFOs for two years but noticed increasing difficulty planting her feet during ambulation. The patient had no complaints of pain in the feet with ambulation.
PHYSICAL EXAM:
Examination revealed a small thin six year-old female with severe bilateral planovalgus deformity. She is able to flex both hips to 120 degrees and has 60 degrees of hip abduction. Her popliteal angles are 60 degrees bilaterally. Her internal rotation is 30 degrees bilaterally and external rotation is 80 degrees bilaterally. Her ankles dorsiflex to 20 degrees with knee flexion and 0 degrees with her knees extended. While walking, the bilateral planovalgus deformity causes her to bear weight on her medial midfoot.
RADIOGRAPHIC EXAM:
Preoperative weight-bearing lateral radiographs of the feet reveal the following:
Preoperative X-rays:
Left Talocalcaneal angle is 48 degrees, Talonavicular angle is 56 degrees
Right Talocalcaneal angle is 44 degrees, Talonavicular angle is 40 degrees
Video Gate Analysis (preop)
Clinical Course
The patient failed conservative management with bracing and therefore had a bilateral subtalar arthrodesis with lateral column lengthening and gastrocnemius lengthening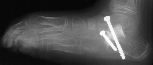 . Post-operatively, the patient was placed in bilateral short leg casts and allowed full weight bearing.
At 15 month follow-up the patient had a decrease in her popliteal angles to 20 degrees and was ambulating with plantigrade feet in neutral varus/valgus angulation.
Postoperative X-rays:
Left Talocalcaneal angle is 24 degrees, Talonavicular angle is 2 degrees
Right Talocalcaneal angle is 28 degrees, Talonavicular angle is 2 degrees
Video Gait analysis (postoperative)
DISCUSSION
Goals of surgical intervention in planovalgus deformity of the feet in C.P.:
Complete unassisted walking brace-free with a heel-toe gait
Minimize the risk of growth disturbance
Minimize the risk of late degenerative joint disease
Biomechanics of the planovalgus foot deformity:
Deformity results from a combination of spasticity, weakness and altered biomechanics during walking which is worsened by equinus
Calcaneus is pulled by the heel cord and rotated from its position under the talus
Sustentaculum tali loses its normal supporting position beneath the head of the talus
Talus then drops into a more vertical and medial position
Structurally the calcaneus becomes everted and the talus appears to be "standing on its head"
Restoration of the relationship between the sustentaculum tali and the talus is paramount for long term plantigrade ambulation
Surgical Alternatives:
Grice extra-articular subtalar fusion
described by Grice and Green in 1945 originally used in the treatment for paralytic flatfoot secondary to polio in which the anterior tibialis or posterior tibialis or both were paralyzed, and the deforming force was the peroneal muscles.
valgus deformity should be corrected as early as possible before fixed deformity can develop. Average age was 5 years-old.
bone hook placed around talar neck and release of anterior, medial and posterior talonavicular joint capsules to reduce talus to calcaneus.
nonunion rate of 0% in 53 fusions (allograft)
Keats reported good to excellent results in 61 of 63 fusions at 2 year follow-up.
Calcaneal medial displacement osteotomy (Koman, 1993)
medial displacement of the posterior portion of the calcaneus after osteotomy that parallels the subtalar joint with smooth k-wire fixation.
average age was 9 years-old with an average follow-up of 42 months
good or excellent results in 17 of 18 feet
advantages include limited interference with potential hindfoot growth, maintenance of subtalar motion, and rapid healing through cancellous bone
Arthroereisis of subtalar joint with vitallium staples
Grice exposure and reduction with 1.6 cm vitallium stable across lateral subtalar joint after notching lateral calcanues and release of TAL
Arthro =" joint" / eresis = "raise up" ie, the limitation of joint motion that is abnormal secondary to paralysis
good to excellent results in 84% of patients with 100% union in 31 procedures with 4 year follow-up.
Triple arthrodesis
has waxed and waned in popularity in cerebral palsy patients
major disadvantage is secondary Degenerative Joint Disease
Aiona (1993) reported in 89 patients with average follow up of 24 years a 97% good to excellent outcome regarding correction of deformity and production of a stable functional foot
minimal articular degeneration in these low demand patients lead to excellent long-term results
REFERENCES:
Aiona M. Triple arthrodesis in cerebral palsy: Long-term results(abstract). Orthop Trans 1993; 16:626.
Barrasso JA, Wile PB, Gage JR. Extra-articular subtalar arthrodesis with internal fixation. J Pediatr Orthop 1984; 4:555.
Bennet GC, Rang M, Jones D. Varus and valgus deformities of the foot in cerebral palsy. Dev Med Child Neurol 1982; 24, 499.
Crawford AH, Kucharzuk D, Roy DR, Blibo J. Subtalar stabisization of the planovalgus foot by staple arthroeresis in young children who have neuromuscular problems. J Bone Joint Surg [Am] 1990; 72: 840.
Dennyson WG, Fulford GE. Subtalar arthrodesis by cancellous grafts and metallic internal fixation. J Bone Joint Surg [Br] 1976; 58: 187.
Evans D. Calcaneo-valgus deformity. J Bone Joint Surg [Br] 1975; 57: 270.
Grice DS, An extra-articular arthrodesis to the sub-astragalar joint for correction of paralytic flat feet in children. 34A: 927-940, 1952.
Keats S, Early surgical correction of the planovalgus foot in cerebral palsy. CORR 61, 223, 1968.
---